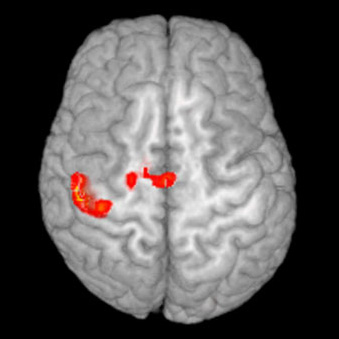 Developed by Vladislav Staroselskiy
CFMI Members
Ashley VanMeter, Ph.D.
Position:

Director

School:

B.S. -- University of Oklahoma, 1987, Computer Science
M.S. -- Dartmouth College, 1991, Computer Science
Ph.D. -- Dartmouth College, 1993, Computer Science

Bio:

Dr. VanMeter is an Associate Professor in the Department of Neurology at Georgetown University Medical Center and Director of the 3T MRI facility at Center for Functional and Molecular Imaging. He has over 25 years experience in the design and implementation of neuroimaging experiments as well as their data analysis. His graduate work was on the development of automated methods for segmentation of structural MRI images of the brain by tissue class. This was followed by a 2-year position at NIH as a Staff Fellow in the Laboratory of Neuroscience in the National Institute of Aging, where he was on the leading edge of the application of fMRI and PET. In particular, he had a major role in the first study of the neurobiological basis of dyslexia using fMRI (Eden, et al. Nature, 1996) and several other studies examining sensory processing in the auditory and visual domains. Subsequently, he was Director of Research and Development at Sensor Systems, Inc for 5 years during which time I led the development of a commercial software package (MEDx) that was used by 300 labs to analyze structural and functional MRI as well as the subsequent development of one of the first FDA-cleared fMRI clinical analysis packages. Further, he designed and developed the database and data transfer systems used for the MRI data collected in the NIH Pediatric Brain Development project, a longitudinal study utilizing MRI that studied brain development in 500 children at 7 sites across the country. He was PI of an NIH-funded STAART (Studies to Advance Autism Research and Treatment) center grant project, in which a number of MRI-based techniques were used including fMRI, DTI, and MR spectroscopy to investigate the neurobiological basis of autism. The STAART project included scanning over 140 children between the ages of 5 and 18, about half of whom are on the spectrum for Autism Disorder (ASD). Currently, his R01 is applying these same techniques to prospectively identify specific deficits or features of underdevelopment in prefrontal cortex and other reward processing centers that predict alcohol initiation and act as risk factors in escalation of alcohol use in a longitudinal study of adolescents.

Publications:

For complete list of publications please refer to MyBibliography: https://www.ncbi.nlm.nih.gov/sites/myncbi/1XgRzj-ihTXQU/bibliography/40581136/public/?sort=date&direction=ascending



Walitt B, Čeko M, Khatiwada M, Gracely JL, Rayhan R, VanMeter JW, Gracely RH. Characterizing "fibrofog": Subjective appraisal, objective performance, and task-related brain activity during a working memory task. Neuroimage Clin. 2016 Feb 2;11:173-80. doi: 10.1016/j.nicl.2016.01.021. PMCID: PMC4761650.


Washington SD, VanMeter JW. Anterior-Posterior Connectivity within the Default Mode Network Increases During Maturation. Int J Med Biol Front. 2015;21(2):207-218. PMCID: PMC4520706.


Pacheco-Colón I, Washington SD, Sprouse C, Helman G, Gropman AL, VanMeter JW. Reduced Functional Connectivity of Default Mode and Set-Maintenance Networks in Ornithine Transcarbamylase Deficiency. PLoS One. 2015 Jun 11;10(6):e0129595. doi: 10.1371/journal.pone.0129595. PMCID: PMC4466251.


Breeden AL, Cardinale EM, Lozier LM, VanMeter JW, Marsh AA. Callous-unemotional traits drive reduced white-matter integrity in youths with conduct problems. Psychol Med. 2015 Jun 19:1-14. PMID: 26087816.


Washington SD, Gordon EM, Brar J, Warburton S, Sawyer AT, Wolfe A, Mease-Ference ER, Girton LE, Hailu A, Mbwana J, Gaillard WD, Kalbfleisch ML, VanMeter JW. (2014). Dysmaturation of the Default Mode Network in Autism. Human Brain Mapping. 35(4):1284-96. PMCID: PMC3651798.


Matto HC, Hadjiyane M, Kost M, Marshall JK, Wiley J, Strolin-Goltzman J, Khatiwada M, VanMeter JW (2014). fMRI clinical trial of a dual–processing treatment protocol for substance-dependent adults. Research on Social Work Practice. 24(6):659-669. doi: 10.1177/1049731513515056.


Marsh AA, Stoycos SA, Brethel-Haurwitz KM, Robinson P, VanMeter JW, Cardinale EM (2014). Neural and cognitive characteristics of extraordinary altruists. Proc Natl Acad Sci USA. 2014 Sep 15. PMCID: PMC4210306.


Lozier LM, Cardinale EM, VanMeter JW, Marsh AA (2014). Mediation of the Relationship Between Callous-Unemotional Traits and Proactive Aggression by Amygdala Response to Fear Among Children With Conduct Problems. JAMA Psychiatry. 71(6):627-636. doi:10.1001/jamapsychiatry.2013.4540. PMCID: PMC4479191.


Berl MM, Mayo J, Parks EN, Rosenberger LR, VanMeter JW, Ratner NB, Vaidya CJ, Gaillard WD (2014). Regional differences in the developmental trajectory of lateralization of the language network. Hum Brain Mapp. PMCID: PMC3578038.


Lozier LM, VanMeter JW, Marsh AA. (2014) Impairments in facial affect recognition associated with autism spectrum disorders: a meta-analysis. Dev Psychopathol. 26(4 Pt 1):933-45. PMID: 24915526.


Matto HC, Strolin-Goltzman J, Hadjiyane M, VanMeter JW, Kost M, Marshall JK, Wiley J (2013). Clinical trial of an innovative dual-processing group therapy relapse prevention protocol conducted in a community-based setting. Journal of Groups in Addiction & Recovery, 8(4), 240-261. doi: 10.1080/1556035X.2013.836863.


Rayhan RU, Raksit MP, Timbol CR, Adewuyi O, VanMeter JW, Baraniuk JN (2013). Prefrontal lactate predicts exercise-induced cognitive dysfunction in Gulf War Illness. Am J Transl Res. 5(2):212-23. PMCID: PMC3612516.


Rayhan RU, Stevens BW, Raksit MP, Ripple JA, Timbol CR, Adewuyi O, VanMeter JW, Baraniuk JN (2013). Exercise challenge in gulf war illness reveals two subgroups with altered brain structure and function. PLoS One. 8(6). PMCID: PMC3683000.


Rayhan RU, Stevens BW, Timbol CR, Adewuyi O, Walitt B, VanMeter JW, Baraniuk JN (2013). Increased brain white matter axial diffusivity associated with fatigue, pain and hyperalgesia in Gulf War illness. PLoS One. 8(3). PMCID: PMC3603990.


Gropman AL, Shattuck K, Prust MJ, Seltzer RR, Breeden AL, Hailu A, Rigas A, Hussain R, VanMeter JW. (2013). Altered neural activation in ornithine transcarbamylase deficiency during executive cognition: An fMRI study. Human Brain Mapping. 34(4):753-61. PMCID: PMC3338900.


Brain Development Cooperative Group. (2012). Total and Regional Brain Volumes in a Population-Based Normative Sample from 4 to 18 Years: The NIH MRI Study of Normal Brain Development. Cereb Cortex. 22(1):1-12. PMCID: PMC3236790.


Gordon EM, Lee PS, Maisog JM, Foss-Feig J, Billington ME, VanMeter JW, Vaidya CJ. (2011). Strength of default mode resting-state connectivity relates to white matter integrity in children. Dev Sci. 14(4):738-51. PMCID: PMC3117440.


Pangelinan MM, Zhang G, VanMeter JW, Clark JE, Hatfield BD, Haufler AJ. (2011). Beyond age and gender: Relationships between cortical and subcortical brain volume and cognitive-motor abilities in school-age children. Neuroimage. 54(4):3093-100. PMCID: PMC3020257.


Shook D, Brady C, Lee PS, Kenealy L, Murphy ER, Gaillard WD, VanMeter JW, Cook EH Jr, Stein M, Vaidya CJ. (2011). Effect of dopamine transporter genotype on caudate volume in childhood ADHD and controls. Am J Med Genet B Neuropsychiatr Genet. 156(1):28-35. PMCID: PMC3010298.


Oldham MS, VanMeter JW, Shattuck KF, Cederbaum SD, Gropman AL. (2010). Diffusion tensor imaging in arginase deficiency reveals damage to corticospinal tracts. Pediatr Neurol. 42(1):49-52. PMCID: PMC3758690.


Berl MM, Duke ES, Mayo J, Rosenberger LR, Moore EN, VanMeter JW, Ratner NB, Vaidya CJ, Gaillard WD. (2010). Functional anatomy of listening and reading comprehension during development Brain and Language. 114(2):115-25. PMCID: PMC2962416.


Gropman AL, Gertz B, Shattuck K, Kahn IL, Seltzer R, Krivitsky L, VanMeter JW (2010). Diffusion Tensor Imaging Detects Areas of Abnormal White Matter Microstructure in Patients with Partial Ornithine Transcarbamylase Deficiency. Am J Neuroradiol. 31(9):1719-23. PMCID: PMC3758695.


Renier LA, Anurova I, De Volder AG, Carlson S, VanMeter JW, Rauschecker JP. (2010). Preserved functional specialization for spatial processing in the middle occipital gyrus of the early blind. Neuron. 68(1):138-48. PMCID: PMC2951740.


Obleser J, Leaver AM, VanMeter JW, Rauschecker JP. (2010). Segregation of vowels and consonants in human auditory cortex: evidence for distributed hierarchical organization. Front Psychol. 1:232. PMCID: PMC3125530.


Bhatt S, Mbwana J, Adeyemo A, Sawyer A, Hailu A, VanMeter JW (2009). Lying about facial recognition: an fMRI study. Brain and Cognition. 69(2):382-90. PMID: 18848742.


Lee PS, Yerys BE, Della Rosa A, Foss-Feig J, Barnes KA, James JD, VanMeter JW, Vaidya CJ, Gaillard WD, Kenworthy LE. (2009). Functional connectivity of the inferior frontal cortex changes with age in children with autism spectrum disorders: An fcMRI study of response inhibition. Cerebral Cortex. 19(8):1787-94. PMCID: PMC2722789.


Renier L, Anurova I, DeVolder A, Carlson S, VanMeter JW, and Rauschecker J. (2009). Multisensory integration of sounds and vibro-tactile stimuli in processing streams for "what" and "where". Journal of Neuroscience. 29(35):10950-60. PMCID: PMC3343457.


Yerys BE, Jankowski KF, Shook D, Rosenberger LR, Barnes, KA, Berl, MM, Ritzl, EK, VanMeter JW, Vaidya CJ, Gaillard W.D. (2009). The fMRI success rate of children and adolescents: Typical development, epilepsy, attention deficit/hyperactivity disorder, and autism spectrum disorders. Human Brain Mapping. 30(10):3426-35. PMCID: PMC2748172.


Gropman AL, Fricke SF, Seltzer RR, Hailu A, Adeyemo A, Sawyer A, VanMeter JW, Gaillard WD, McCarter R, Tuchman M, Batshaw, ML. (2008). 1H MRS identifies symptomatic and asymptomatic subjects with partial ornithine transcarbamylase deficiency. Mol Genet Metab. 95(1-2):21-30. NIHMS ID: NIHMS74462.


Medvedev AV, Kainerstorfer J, Borisov SV, Barbour RL, VanMeter JW (2008). Event-related fast optical signal in a rapid object recognition task: Improving detection by independent component analysis. Brain Research. 1236:145-58. PMCID: PMC2668610.


Obleser J, Zimmermann J, VanMeter JW, Rauschecker JP. (2007). Multiple stages of auditory speech perception reflected in event-related fMRI. Cerebral Cortex. 17(10):2251-7. PMID: 17150986.


Jiang X, Bradley E, Rini RA, Zeffiro T, VanMeter JW, and Riesenhuber M. (2007). Categorization training results in shape- and category-selective human neural plasticity. Neuron. 53(6):891-903. PMCID: PMC1989663.


Evans AC, Brain Development Cooperative Group (2006). The NIH MRI study of normal brain development. Neuroimage. 30(1):184-202. PMID: 16376577.


Jiang X, Rosen E, Zeffiro T, VanMeter JW, Blanz V, Riesenhuber M. (2006). Evaluation of a shape-based model of human face discrimination using FMRI and behavioral techniques. Neuron. 50(1):159-72. PMID: 16600863.


Blake P, Johnson B, VanMeter JW (2003). Positron Emission Tomography (PET) and Single Photon Emission Computed Tomography (SPECT): Clinical Applications. Journal of Neuro-ophthalmology 23(1):34-41. PMID: 12616088.


Wessinger CM, VanMeter JW, Tian B, Van Lare J, Pekar J, Rauschecker JP. (2001). Hierarchical organization of the human auditory cortex revealed by functional magnetic resonance imaging. Journal of Cognitive Neuroscience 13(1):1-7. PMID: 11224904.


Furey ML, Pietrini P, Haxby JV, Alexander GE, Lee HC, VanMeter JW, Grady CL, Shetty U, Rapoport SI, Shapiro MB, Freo U. (1997). Cholinergic stimulation alters performance and task-specific regional cerebral blood flow during working memory. Proc Natl Acad Sci USA, 94(12), 6512-6. PMCID: PMC21081.


Eden GF, VanMeter JW, Rumsey JM, Maisog JM, Woods RP, Zeffiro TA. (1996). Abnormal processing of visual motion in dyslexia. Nature, 382, 66-69. PMID: 8657305.


VanMeter JW, Maisog JM, Zeffiro TA, Hallett M, Herscovitch P, Rapoport SI. (1995). Parametric analysis of functional neuroimages: application to a variable-rate motor task. NeuroImage, 2, 273-283. PMID: 9343612.