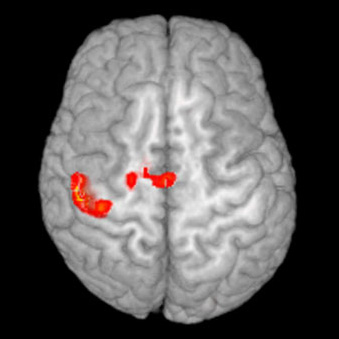 Developed by Vladislav Staroselskiy
Map & Directions
GUMC is located at 3900 Reservoir Road. Reservoir Road runs between Foxhall Road and Wisconsin Avenue. From the Beltway, exit on Exit 40 east bound (sign posted Cabin John). This places you on Clara Barton Parkway. Take Clara Barton all the way into DC (where it becomes Canal Road) until you come to the traffic light at Arizona Road (there is an old bridge crossing overhead). Turn left onto Arizona, up the hill until you get to MacArthur Boulevard. Turn right on MacArthur and stay on MacArthur until Reservoir Road branches off on the left. Reservoir goes up a hill, you cross Foxhall Road, then down the hill and GUMC will be on your right. Turn into Entrance One. Parking will be straight in front of you at the Leavey Center.

We are located in Suite LM14, in the Preclinical Sciences Building at the Georgetown University Medical Center (GUMC), 3900 Reservoir Rd, NW. This is opposite the French Embassy. If you are driving, please leave your car in the garage at the Leavey Center (Entrance 1) or the metered parking spots on Reservoir Road.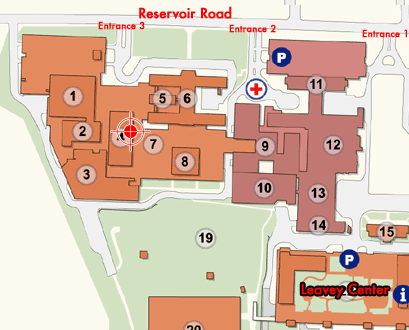 To reach the Leavey Center: The Leavey Center is located in Entrance 1 (Entrance 1 is clearly sign-posted on Reservoir Rd). Upon turning into Entrance 1 the Leavey Center is located past the Pasquerilla Building on the right and straight ahead of you. There are other parking facilities between Reservoir Road and Leavey Center that might have open spaces.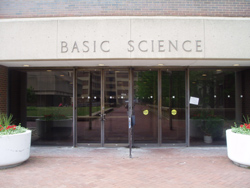 The Preclinical Sciences Building just off Reservoir Rd., easily gotten to from Entrance 3. When you have reached Entrance 3, walk up the stairs along the side of the Parking Garage II. At the top of the stairs, make a left and walk past the small garden. Then make a right in the opening between the Medical and Dental Building (Med/Dent) and the Basic Sciences Building. Take your first right into the Basic Sciences Building. Once inside the building you will see a pair of elevators on the right. Take the elevators two floors down to "LL". Make a right out of the elevators and our lab is right there. Please ring the bell and someone will come to greet you