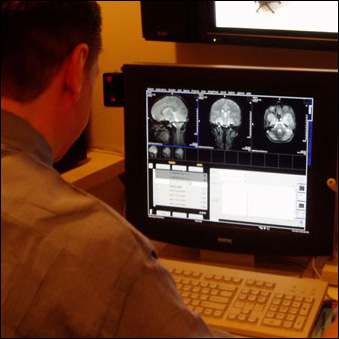 Developed by Vladislav Staroselskiy
About Research
Developmental Studies
Adolescent Development Study of Alcohol Use in Adolescence
Neurology
Principal Investigator: Dianna Fishbein (UMB) and John VanMeter
The goal of this study is to understand the effects of alcohol use on the trajectory of adolescent brain development. Delineating neurodevelopmental precursors and consequences of alcohol use, particularly as they relate to the development of complex functions in adolescents requires using a prospective longitudinal cohort study employing neuroimaging. The overarching model for this study is that specific deficits in complex cognitive functions, such as executive control and emotion regulation, characterized by underdevelopment of their neural substrates as indicated by differences in activation and connectivity patterns in prefrontal cortex (PFC) and the ventral striatum, may operate as risk factors for initiation and escalation of alcohol and drug use. We believe that by addressing the open questions regarding the neurobehavioral precursors and consequences of misuse of these substances will lead to the identification of the factors that can both mitigate the slow developmental trajectory of the PFC by providing support for increased self-regulation at this critical stage of life thereby providing approaches to reduce the risk of alcohol and drug use.
Participate in this study
Assessing Neural Mechanisms of Injury in Ornithine Transcarbamylase Deficiency
Center for Functional and Molecular Imaging, GU Medical Center
Principal Investigator: Andrea Gropman and John VanMeter (Site-PI)
Learning disabilities and motor deficits are common in people with inherited urea cycle disorders. However, the extent to which the deficits involve specific pathways in the brain is unknown. Furthermore, little is known about the underlying chemical basis of these difficulties. This project will study cognitive and motor dysfunction in patients who are female carriers of ornithine transcarbamylase deficiency (OTCD) or are males with late onset OTCD. This project seeks to improve our understanding of the underlying neural mechanisms that contribute to metabolic, neurocognitive and motor abnormalities in ornithine transcarbamylase deficiency (OTCD), an X-linked inborn error of ureagenesis, and a major cause of neonatal encephalopathy leading to significant morbidity and mortality.
Participate in this study
Age, Physical Activity, Genotype, and Cognitive Function
Principal Investigator: Bradley Hatfield
This study is closed. The primary purpose of this project is to collect and analyze magnetic resonance (MR) pilot data from 8 to 10 subjects as a component of grant proposal development. The pilot data will relate to a larger project to determine if habitual physical activity in middle-aged men and women, who are genetically at-risk for Alzheimer's disease (AD), but show normal cognitive performance, attenuates any abnormalities in neural processes that may be indicative of preclinical AD.
fMRI Studies of Sensorimotor Integration in Children with Autism Spectrum Disorders
Center for Functional and Molecular Imaging, GU Medical Center
Principal Investigator: John VanMeter
This study is closed. The focus of the study is examining the brain development of a child on the Autism Spectrum versus the brain development of a typically developing child. Our study has two components, behavioral testing and MRI scanning. The behavioral testing involves mainly reading, word problems, puzzles etc. and takes about five to six hours. The MRI scanning takes about 3 hours.
Mechanisms of Reading in the Deaf
Center for the Study of Learning, GU Medical Center
Principal Investigator: Carol LaSasso, Ph.D – Professor, Audiology and Speech-Language Pathology Department and Ph.D Program Director, Gallaudet University; Daniel Koo, Ph.D. – Post-doctoral Research Fellow, Center for the Study of Learning, Georgetown University
This study is closed. In this project, behavioral and fMRI measures are used to explore the neurobiological basis of phonological processing and reading in deaf and hearing adults. A group of deaf adults who use Cued Speech (a manual communication system that contains the phonological information of English, which should result in better access to the phonological code of language) will be compared to hearing adults. The results of this study could potentially provide information leading to the development of more effective language instruction and intervention programs for both hearing and deaf individuals with reading disabilities.
Security and Intelligence Studies
An Investigation of Perceptual Skills and Cognitive Strategies Using Functional Brain Imaging
Center for Functional and Molecular Imaging, GU Medical Center
Principal Investigator: John VanMeter
This study is closed. The objective of this research is to determine whether an individual's performance level on a set of visual perceptual skills tasks can be improved sufficiently by means of specialized training software to rival that of those naturally-talented individuals who demonstrate high performance levels without training. The project also considers the similarity of the neural mechanisms supporting the visual processing by the trained individuals to that of the naturally-talented individuals will be assessed by means of functional brain imaging. The goals of this research are thus to examine the neural mechanisms of the perceptual and cognitive changes associated with specific visual training.
Brain Mechanisms of Decision Making (Deception Detection)
Principal Investigator: Sujeeta Bhatt, Ph.D - Behavioral Neuroscience, Georgetown University
This study is closed. The primary goal of this project is to identify the neural systems responsible for deception-based decision making by examining BOLD patterns associated with facial recognition and to correlate the results from the fMRI study with pupil dilation and heart rate.
Spectroscopy Studies
fMRI of Biphasic Alcohol Effects
Center for Functional and Molecular Imaging, GU Medical Center
Principal Investigator: John VanMeter
This project will test a model developed by the co-PI (Newlin) concerning brain mechanisms that may mediate the biphasic response to alcohol. Brain mechanisms that mediate the biphasic effects of alcohol will be measured using functional magnetic resonance imaging (fMRI) techniques [arterial spin labeling (ASL)] that allow assessment of regional cerebral blood flow (rCBF). It will determine brain pharmacokinetics of alcohol. This will allow us to expand our understanding of the relations between regional and temporal brain ethanol levels (BEL) and rCBF changes. The project will also relate biphasic regional cerebral blood flow and brain alcohol levels to addiction vulnerability genotypes.